SCCC partners with 160 Driving Academy to Offer Commercial Driver Training Course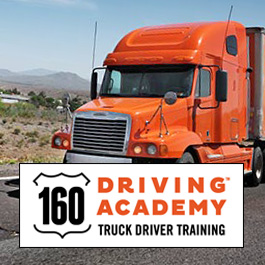 Sussex County Community College and 160 Driving Academy have teamed up to offer a Truck Driver Training course to prepare students for trucking careers requiring Commercial Driver's Licenses (CDL).
New Jersey has one of the highest employment numbers of Heavy and Tractor-Trailer Truck Drivers in the United States, according to the United States Department of Labor's Bureau of Labor Statistics. In 2018, Heavy and Tractor-Trailer Truck Drivers made up 12 out of every 1,000 jobs in the state, with about 48,760 drivers employed in the industry. The average wage of these drivers was thousands above the national average.
According to the Bureau's projections, the demand for drivers nationwide is estimated to go up by hundreds of thousands over the next ten years as the need for transportation grows.
Even students with little or no commercial driving experience can excel in this four-week course. Classes meet five days a week from 8 a.m.-4:30 p.m. each day at Sussex County Community College in Newton.
After successful completion of the course, students will take the New Jersey Motor Vehicle Commission Class A test and receive a completion certificate. 160 Driving Academy will also work with students to help secure job placement.
Those who are unemployed or underemployed may be eligible to obtain special funding opportunities.
A Ribbon Cutting Ceremony will take place at the new CDL location on Thursday, October 31st at NOON in Lot 9 on Campus. Light refreshments will be served.
For more information, please contact Linda Connor at lconnor@sussex.edu, or 160 Driving Academy at (973) 721-9689. To register, visit www.160drivingacademy.com.