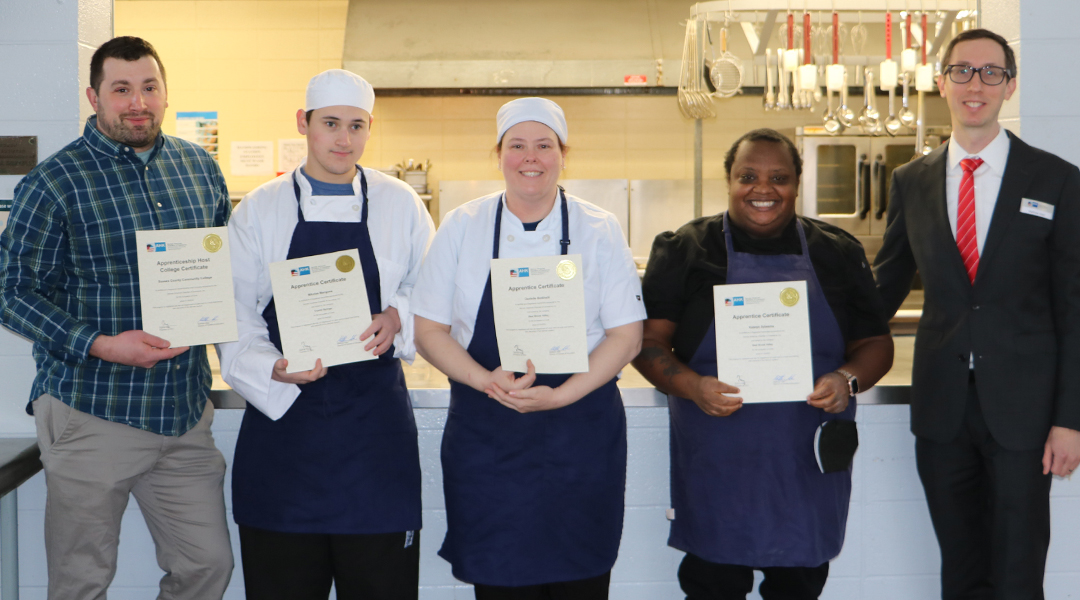 Pictured left to right: SCCC Culinary Arts Program Coordinator Martin Kester, students: Danielle Bottinelli, Katelyn Sybesma, and Nikolas Mangone, and Matthew Allen, Director of Careers & Education German American Chamber of Commerce, Inc.
Sussex County Community College and The German American Chamber of Commerce, Inc. (GACC) are pleased to announce the commencement of its first Culinary Arts Apprenticeship program. The inaugural class of apprentices is hosted by the established local employers, Bear Brook Valley and Crystal Springs Resort. 
The Apprenticeship is registered with the US Department of Labor for the occupation of Cook and incorporates aspects of the German dual-education vocational training system. In addition to their workforce training, the Apprentices will be earning their Associate Degree in Culinary Arts from Sussex. This new opportunity expands on Sussex's existing partnerships with industry, incorporating internships into the degree programs. With the new Apprenticeship model, students will be participating in a year-long structured training program, which will focus on growing their competence and independence in the field. 
The GACC is pleased to work with Sussex County Community College's dynamic and growing Culinary Arts program. Led by Chef Martin Kester, the program will be opening its new training center and test kitchen on Main Street in Newton, NJ, this summer.