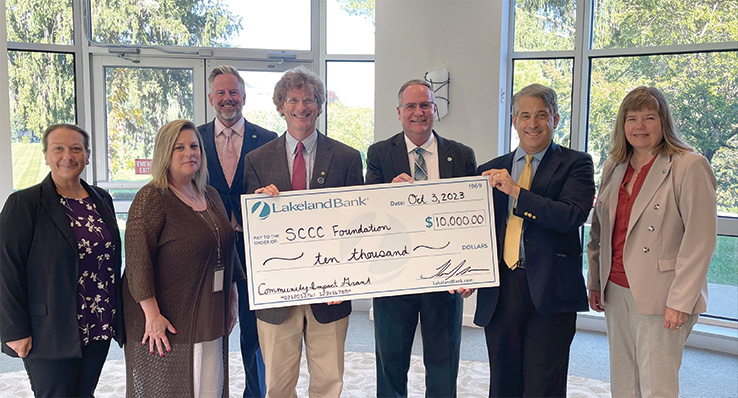 The Sussex County Community College Foundation received a $10,000 Lakeland Bank Community Impact Grant to support the College by purchasing five Apple iMac computers for the multi-use photography and graphics lab. The equipment will be used primarily through the new Alpha Arts Institute for artistic productions and by students, faculty, visiting artists, and collaborators for processing, proofing, and producing exhibition prints, portfolio materials, student projects, and professional workshop activities.
The Lakeland Bank Community Impact Grant will have a direct impact and benefit to currently enrolled students in a range of graphics, arts, humanities, business, and theater programs. It will also be useful for our seniors engaged in lifelong learning, to community members, and the surrounding region engaged in the Alpha Arts Institute activities.
The purchase and maintenance of the Apple iMac computers, for the multi-use photography and graphics lab, will support the Alpha Arts Institute's short-term and long-term goals already underway by providing needed equipment that provides a new layer of operability and media production built into the vision of operations for the Institute and academics at the College.
Lakeland Bank and Sussex County Community College have maintained a long-standing, mutually beneficial partnership that supports the community's needs.
A check was presented at Sussex County Community College on Tuesday, October 3.
Pictured left to right: Dora Rodriguez, Lakeland Bank Vice President/Area Manager; Dr. Kathleen Okay, Senior Vice President for Academic and Student Affairs; Daniel Leary, Lakeland Bank Sr. Vice President, Business Banking Manager; Dr. Jon H. Connolly, SCCC President; Keith Niedergall, Lakeland Bank Sr. Vice President/Regional Administrator; Stan Kula, Executive Director College Foundation and Mary Franchini, Lakeland Bank AT-Government Banking Specialist.