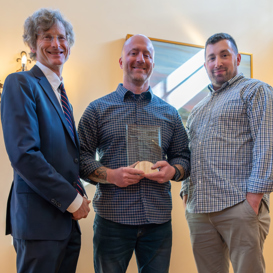 What's dining without some crystal? The Sussex County Community College (SCCC) Culinary Arts Institute and McGuire Technical Education Center in Newton can add a crystal trophy to its cabinet of accomplishments.
On Friday, October 20, SCCC was awarded the Economic Innovation Award for the Sussex County Community College McGuire Technical Education Center at the 18th Annual Sussex County Economic Partnership Awards Luncheon.
The Sussex County Economic Development Partnership (SCEDP), Inc.'s Annual Award Program is a direct way to thank companies and individuals who have assisted economic development efforts in the county, explains Stan Kula, executive director of the Foundation.
The Economic Innovation Award is given to a business or entity that has successfully created new and innovative solutions to support economic development efforts.
The Sussex County Economic Development Partnership, Inc. is dedicated to fostering sustainable economic development by promoting strategic opportunities, developing solutions for retaining and attracting key county industries, and facilitating collaboration between businesses, municipalities and community partners, as described in the SCEDP 18th Annual Awards Luncheon Program.
"The College is proud to receive this award acknowledgement," says SCCC President Dr. Jon Connolly. "The College can only be strong when it serves Sussex County and participates in the growth of the local economy. Culinary Arts, Baking & Pastry Arts, Automotive, Diesel, and Welding are among the programs that are housed at the McGuire Technical Education Center.
"The good work we do with our students is only possible because of the support from the many people who believe in the mission of the College," adds Connolly.
SCCC began leasing the former McGuire car dealership on Main Street in Newton in July 2018, and in 2019, it acquired the property through the generosity of Sean McGuire and others. It used the facility to establish the McGuire Technical Education Center, which includes classrooms, offices and laboratory space to provide essential programs.
SCCC's vision is "to serve as a catalyst for socio-economic progress for the people and institutions in Sussex County," as stated in an overview of the program. Its technical education programs "have a direct and lasting impact on the community's citizens, businesses, and economy."
The McGuire Technical Education Center advances workforce development and training, and promotes local and regional economic development and revitalization efforts in Newton, Sussex County and northern New Jersey.
Jason Fruge, dean of Technical Occupations, oversees SCCC's technical education programs and has seen significant growth over the past seven years in these in-demand fields to prepare students for the workforce. Current programs include Automotive Service Technology, Diesel Service Technology, Electrical Lineworker, Machine Tool Technology, Optics Technology and Welding.
SCCC has met with business leaders like McGuire Chevrolet/Cadillac and Thorlabs to discuss how it can help meet their needs for trained workers. From this partnership, SCCC has learned that there is an automotive service technology market demand for trained employees for car dealerships and automotive service companies, trained and skilled optics technology specialists for optics and optics-related companies, and as a result, tailored its programs to meet these needs.
Culinary Institute
The Culinary Institute also operates out of the McGuire Technical Education Center which opened in 2022. Martin Kester, supervisor of the Culinary Institute, runs the state-of-the-art instructional kitchen lab, a full restaurant kitchen, a practical dining room lab, the new Arbor Restaurant and Bake Shop, which is open to the public.
Students are provided with a high-quality, affordable technical education to prepare them for a rewarding career in the culinary field. The training they receive will help meet the growing labor shortages of local companies for skilled workers in the hospitality sector.
The Culinary Institute will bring much-needed economic development to a featured part of downtown Newton's revitalization initiative. This program will positively impact many local businesses in the hospitality and tourism sector by increasing foot traffic and interest in the McGuire Technical Education Center. Programs in culinary arts, baking & pastry arts and hotel/restaurant management are offered. Additionally, the Institute offers Meals To Go, and cooking and baking workshops.
The institute provides technical education, entrepreneurial assistance and training to local students to participate in competitive employment in the food service and hospitality sector.
According to the 2018 U.S. Bureau of Labor Statistics, employment of chefs and head cooks is projected to grow 10% from 2016 to 2026, faster than the average for all occupations. The National Restaurant Association forecasts that New Jersey will have upwards of 335,200 positions in the restaurant industry by 2025, compared to 318,800 in 2015.
It really is a recipe for success. The Culinary Institute will prepare SCCC graduates with the skills needed to succeed, while some key local businesses can provide internships and employment opportunities to graduates, allowing them to find stable employment and contribute to the local economy and community.
For more information about technical education programs at SCCC contact jfrudge@sussex.edu; for more about the Culinary Institute contact mkester@sussex.edu
Photo caption: From left, SCCC President Jon Connolly, Jason Fruge and Martin Kester accept the Economic Innovation Award at the 18th Annual Sussex County Economic Partnership Awards Luncheon.