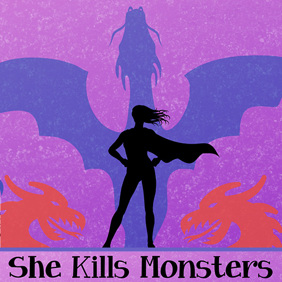 The Visual and Performing Arts Department at Sussex County Community College will be holding auditions for the Fall Play, "She Kills Monsters" by Qui Nguyen.
"She Kills Monsters tells the story of Agnes Evans as she leaves her childhood home in Ohio following the death of her teenage sister, Tilly. When Agnes finds Tilly's Dungeons & Dragons notebook, however, she finds herself catapulted into a journey of discovery and action-packed adventure in the imaginary world that was her sister's refuge."
AUDITION INFORMATION:
AUDITION DATES:
Please arrive promptly
Monday, September 11 | 3-6 pm
Tuesday, September 12 | 6-9 pm
in the Performing Arts Center (Building A)
All SCCC students are welcome to audition (including Jump-Start students, NACEP students, Center for Lifelong Learning students). All auditioners will fill out an Audition Form & a Code of Conduct Form. If you have a theater resume, please bring it. If you do not, not to worry.
This will be an open forum audition where auditioners will watch each other and read with each other. Sides will be provided.
Please be prepared to move. There will be a dance combination that will be taught. Wear comfortable clothing and footwear. Please, no open toe shoes.
AVAILABLE CHARACTERS: NARRATOR, TILLY EVANS, AGNES EVANS, CHUCK, MILES, LILITH, KALIOPE, ORCUS, STEVE, FARRAH, EVIL GABBI, EVIL TINA, ENSEMBLE (5 people playing various characters)
REHEARSALS: ALL STUDENTS WHO ACCEPT THE ROLES MUST ATTEND TECH REHEARSALS AND PERFORMANCES. Most rehearsals will be on Tuesday and Thursday from 6 to 9 pm and Saturdays from 10 to 1 pm. There will be occasional Wednesday rehearsals and some combat training rehearsals. Please bring dates of when you are unable to attend rehearsal. We will be using the app called BAND that will list when rehearsals will be and pertinent notes.
SHOW DATES:
Thursday, November 2 | 7:30 pm
Friday, November 3 | 7:30 pm
Saturday, November 4 | 2 pm
Saturday, November 4 | 7:30 pm
Contact aognibene@sussex.edu with any questions.