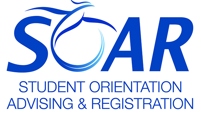 We will be delivering SOAR via ZOOM due to the COVID-19 pandemic. A Zoom invite will be sent to the email you use to register for SOAR approximately 3-4 days prior to your SOAR session. If you have any questions please email advising@sussex.edu.
All new students should attend a SOAR Session.
During a SOAR Session you will:
Meet with an Advisor and work on creating your Academic Plan
Learn about the degree requirements
Register for your first semester classes
Meet other incoming and current students
Learn how to use our online tools and resources
SOAR sessions will last approximately three hours
Prior to registering, make sure we have received the following information:
SAT/ACT scores,

 

if you have taken either of these tests
A copy of Your High School Transcript – Check with your high school Guidance Dept. as this may already have been sent.
Send information to

 

admissions@sussex.edu
To check the status of receipt, please email

 

admissins@sussex.edu

 

or call 973-300-2223.
Register for a SOAR Session
SOAR sessions are intended for ALL new students attending Sussex. It gives you a solid foundation on which to start your education. SOAR sessions will run through August 2020. Registration today!
June 2

June 4

June 9

June 11
June 16
June 18
June 23
June 25
June 30
In order to help you register for your courses, we want to make sure you are aware of a few things. We will now ask you to complete a series of questions relating to your past experiences in English and Math.