Registration for both the winter and spring semesters is underway at Sussex County Community College.
The highly popular winter session, which runs from January 2 through January 17, 2019, is a great way for visiting or current SCCC students to catch up on their credits or get ahead in their academic plan. Seats are available for both in-person and online courses. Winter course offerings include: Computer Concepts and Applications, English Composition II, Macro and Micro Economics, Psychology, Sociology and U.S. History among others. See the full listing at sussex.edu/winter.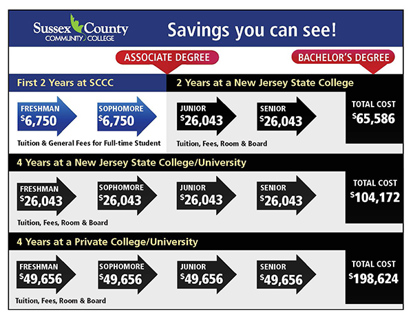 For students looking to earn a bachelor's degree, SCCC makes financial sense with close to a $40,000 savings off the total cost of a 4-year education. Why start a career $65,000-$90,000 in debt when a quality, affordable education is right here in Sussex County.
Registration opens on November 26th for the 2019 Spring Semester for new students. Classes begin on January 22, 2019 and are expected to fill up quickly so students are encouraged to register now. Spring courses can be viewed at sussex.edu/spring.
Normal business hours are as follows:
Monday from 8 a.m. to 6:30 p.m.
Tuesday through Friday from 8 a.m. to 5 p.m.
Closed on Saturday and Sunday
To fill out an application and get started, visit sussex.edu/apply. For more information contact the SCCC Admissions Office at admissions@sussex.edu or call (973) 300-2223.