Amnesty for Overdue Books!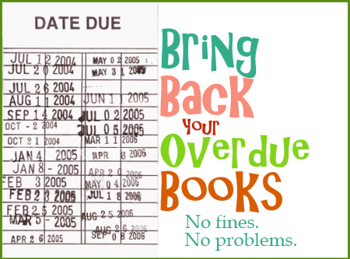 Do you have overdue library materials?
These are challenging times for all of us and want to make your burdens a little lighter.
Return items and clear your account without paying fines, no matter when they were due!
Any overdue library materials returned by the start of the fall semester (September 8, 2020) will have all fines forgiven.*
Please note that our policy of placing a Grade and Transcript Hold on your record remains until your items are returned.
Please bring any library materials you have back to campus and place them in the BOOK DROP at the main entrance to the college (by the flagpole, at the top of the stairs, in front of the Administration Building). If you no longer live nearby, you can mail the items to us.  Please contact us for instructions.
When on campus please follow all recommended social distancing precautions.
If you have any questions, or need assistance, please email us at library@sussex.edu and we will do our best to help you.
*fees may apply due to condition of materials.