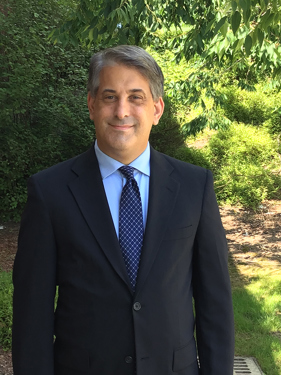 Over the past few weeks, I have been excited to see the parking lots full as eager students hurry into their classes. After a long and quiet break, the campus is again bustling with activity!
The start of the new semester is filled with so much energy. It's filled with hope and optimism, a sense of curiosity, and maybe even a little nervousness.
With this in mind, I want you to imagine that you are that student. You may be a recent high school graduate saving up for a four-year degree and open to the possibilities that Sussex County Community College can provide. You may be a working adult trying to balance your family and career but understand that SCCC can help take you to the next level. You may be a veteran or retired law enforcement officer looking for SCCC to help write the next chapter in your life.
I am pleased to share with you that every member of the SCCC faculty and staff feels all that energy and is ready to continue the mission! And the SCCC Foundation is there to support that mission by raising funds for Student Success, Academic Support, Faculty and Staff Support, and Innovation.
Now, think about what you can do today to bring your relationship with SCCC into focus. Maybe it's attending an upcoming virtual event, like our 100 Women Project lecture in March, sponsoring a student scholarship, or sharing your interest in what would get you back to campus.
Make the time and take the time for SCCC. You will be glad that you did!
Stan Kula
Executive Director, SCCC Foundation
About the Executive Director
Stan Kula serves is a passionate and dedicated professional who serves as the Executive Director of the Sussex County Community College Foundation where he spearheads fundraising efforts to support the institution's growth and educational initiatives.
Kula's primary goal is to enhance the College's mission of providing educational excellence and cultural opportunities to the residents of Sussex County and beyond. The Foundation supports this mission through fund-raising and relationship building efforts on the College's behalf. Funds are generated through annual giving campaigns, special events, and direct contributions. The funds raised support student success, academic support, faculty and staff support, innovation, and campus infrastructure projects.
Stan is a Certified Fundraising Executive through CFRE International, with more than 27 years of experience working in higher education fundraising. In addition, he received a Certificate in Nonprofit Management through MindEdge Learning. He has held roles at Yale University, Wagner College, Centenary University, and Caldwell University. His academic pursuits have equipped him with a deep understanding of effective fundraising strategies, donor engagement, and the importance of philanthropy in driving positive change within educational institutions.
He received a Master's Degree in Leadership and Public Administration from Centenary University and a Bachelor of Arts Degree from The American University.
Beyond his roll at Sussex County Community College, Kula has been a reliable public figure in Sussex County since moving here in 2000. He has served on the Hardyston Township Council since 2009 and has been appointed Mayor several times.  He has also served on the Greater Newton Chamber of Commerce Board of Directors, Hardyston Township Recreation, Hardyston Township Economic Development Advisory Commission, Hardyston Township Municipal Utilities Authority, and Hardyston Township Planning Board.