The LACE program is intended to assist developmentally disabled adults in an educational and social setting.
Emphasis is placed on maintaining and increasing social and academic skills, specifically in the following areas: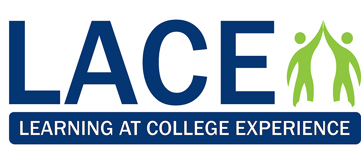 Life skills
Social skills
Language arts literacy
Mathematics
Social studies
Health
Independent living skills
Students are assigned to different sections for academic purposes and join together at various times for group interaction and guest presenters. Electives are woven into the curriculum.
Students work in a classroom setting with instructors and assistants who have experience in the special education field. A certified Special Education teacher leads the program.
Students include those who have had an IEP while in public school, and the age ranges are from 17-60+. The students may live at home, in their apartment, or in a group home.
If the student performs best with a one-on-one assistant, accommodations will need to be made by the parent/guardian for the student to participate in the program if it is deemed necessary.
Current Student Information
14 sessions of two hours each
Day:  Wednesday
Dates:  Spring 2022:  January 26 – May 4, 2022 (no class April 20)
Time:  4:15-6:15 PM, In-person and virtually using ZOOM
Cost: Tuition is $600
NEW PARTICIPANT ORIENTATION
The LACE program only accepts students for the Fall semester. Prospective students must attend the orientation. A program overview is presented along with short academic assessments. If accepted, course payment must be made in full upon registering. School purchase orders are accepted. SCCC is a DDD-approved vendor for Goods and Services.
Orientation Date and Time: May 2022; date to be determined
Location: ZOOM
Registration deadline: TBD
FOR MORE INFORMATION and REGISTRATION FORM:
Contact Patti Nugent, LACE Program Coordinator, at lace@sussex.edu