Congratulations on your pending achievement! We hope you are planning to participate in the Commencement Ceremony.
Commencement 2021 - May 19, 2021
We will be planning this year's commencement ceremony as a drive-through event. 
Graduates will be given a time to report/process
Each student is limited to one vehicle with their family members
Only the graduate will be permitted to exit the vehicle at two specific points:

to walk across the stage
to have their graduation picture taken
The ceremony will be live-streamed and recorded for family members that aren't able to attend.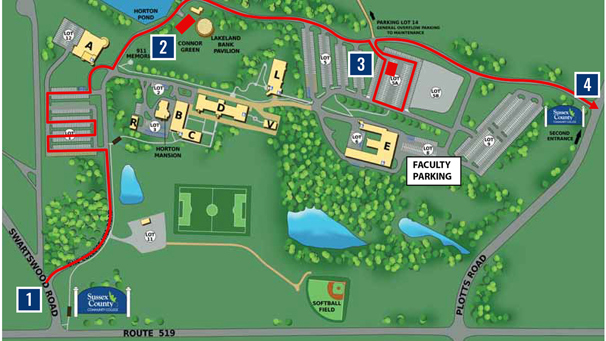 Graduation Day Map
1. Enter Campus via Swartswood Road
2. Student Exits vehicle for diploma cover.
    Enter the stage on the right, exit on the left
3. Student Exits the vehicle for pictures
4. Exit the campus via Plotts Road
All students MUST apply for graduation:
Graduation Application Deadlines:
January (students completing in Fall or Winter) – December 1
May (students completing in Spring) – March 1
August (students completing in Summer) –

March 1 if you wish to participate in the May Commencement ceremony
July 1 if you DO NOT wish to participate in a Commencement Ceremony


Cap & Gown Distribution - Grad Salute:
May 4, 2021: 10:30 am – 2:00 pm, under the Connor Green Pavilion
May 5, 2021: 4:00 pm – 6:30 pm, under the Connor Green Pavilion
Additional Information for Graduation