Rhiannon shares her story.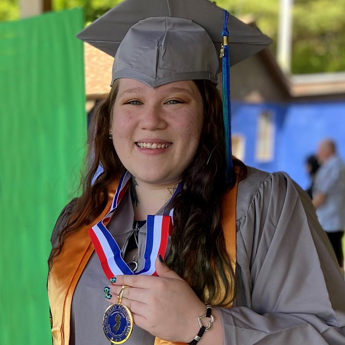 On the Sussex campus, I was primarily involved with Phi Theta Kappa and working in the Writing Center. While most of my time either went to my schoolwork, volunteering with EMS or being at my other jobs every minute that went towards the Writing Center and Phi Theta Kappa is time that would aid in my development towards being a better leader, a better student, and a better person.
Phi Theta Kappa is an elite group of individuals that have proven academic excellence. To be in PTK is to be proud of the work that you produce and the effort that you put in every single day. Being an officer in Phi Theta Kappa gave me a sense of accomplishment and a whole new level of self-confidence. Knowing that acceptance into PTK could only be earned made me feel sanguine. As a result, I cared more, and I tried harder even in the face of tribulation.
I owe a lot to Phi Theta Kappa, as well as the Writing Center. The Writing Center gave me a family and a real sense of community. It kept me sharp with my literary skills, but what is so much more important; it gave me people to turn to when I needed them and the opportunity to help others excel in their own times of strain. PTK and the Writing Center were imperative to my success. I would not be the person, or student, that I am today without them.
I chose Sussex County Community College because I wanted to ease my way into the collegiate atmosphere and stay close to home after high school. I realized Sussex would provide the same core classes needed at bigger universities for a fraction of the price, and since I was putting myself through college, it would be the most financially reasonable option. Realistically, Sussex was overall the best decision for me, but beyond logistics, there was just a homey feeling about it.
Sussex's campus is sophisticated but cozy; it is beautiful and charismatic with a uniqueness that comes from not only its location and aesthetics but the people who fill it. I chose Sussex because it was a smart move, but I stayed there because with every class, there came a new professor willing to help me succeed, and with every semester, there came memories I will never forget.