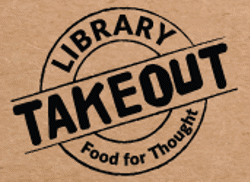 Need materials from our collection, or a copy of the College Novel, use our Library Takeout Service.
Our Library Takeout Hours* are: 
Monday 9:00 a.m.-10:30 a.m.
Tuesday 12:30 pm-3:30 p.m.
Wednesday 9:00 a.m.-10:30 a.m.
Thursday 2:00 p.m.-5:00 p.m.
*Additional arrangements can by made by contacting library staff.
The Library Takeout process is easy:
Search for library materials here.
Fill out our Takeout form or contact library staff. (To contact library staff: email us, send an email to library@sussex.edu or call us at 973-300-2162 during Takeout Hours.)

 

 
Wait for notification (by email or phone) that your items are ready.
Arrive at the Library during the hours above.
If you can't make it to the Library during Takeout Hours, let us know, we might be able to set up another time that works for you.
Would you like contact free Takeout? Take advantage of our Library Takeout Boxes.